Hippie Wedding Dress
Maya is a Hemp and Organic Cotton Hippie Wedding Dress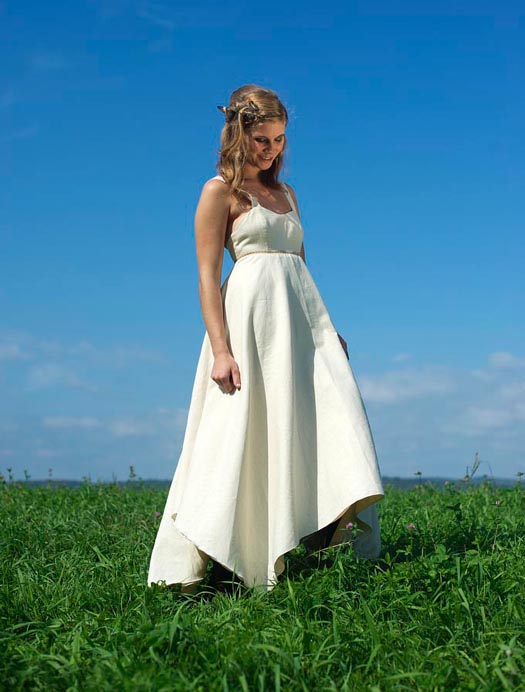 Maya is a hippie wedding dress made of hemp and organic cotton. It has an empire waist and handkerchief hem. Wide, comfortable straps cross to create a plunging, open-backed V that descends to an earthy train of hemp twine and glass beads. Work one-on-one with Tara Lynn to select a trim and train to match your wedding colors.
Price: $1,000
Available in Sizes 2-14; Custom Size for an additional fee
Handmade in Vermont
Made-to-order
*Contact Tara Lynn for a fabric swatch


Tara Lynn ships all over the US and Internationally
Personalized Versions of Maya
"We both felt so beautiful in our dresses,
which perfectly captured our spirits!
I have never felt more magical."
– Heather
"Thanks again for making this so fun and exciting!
If I ever get the chance to meet you in person,
you are getting a GIANT hug and kiss!!!"
-Heather, Des Moines, Iowa
"It's a unique reflection of who I am and what I love."
– Andalyne
Believe it!
You just found the place for a truly unique Hippie Wedding Dress!
Were you feeling out of place in the sea of white, fluffy, taffeta wedding dresses?
Are you looking for a natural, alternative wedding dress that captures your spirit?
You're going to feel right at home when you speak directly with eco-couture fashion designer Tara Lynn. She will help you find or design an eco-friendly, unique wedding dress that feels like you!
Call 802-467-9036 for a magical and personal experience.

Tara Lynn is a certified tailor and graduate of the Fashion Institute of Technology. She has been making custom hemp and natural fiber clothing since 1999.
Other wedding dresses you might like to see: